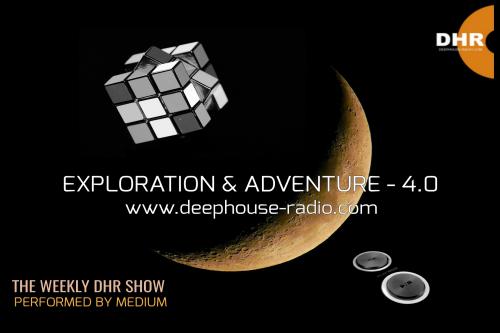 | # | START TIME | ARTIST | TITLE | VERSION | LABEL |
| --- | --- | --- | --- | --- | --- |
Hi there friends!

This is the first presentation of my radio show 'Exploration & Adventure', which features on the fantastic DHR or www.deephouse-radio.com !

This is episode 4.0 and all future shows will be uploaded on edeejay.com for your deep listening pleasure. The sound will be fine deep house, with spices of progressive, tech, electronica/downtempo and indie dance/nu disco.

My show features on DHR at the following times each week (UK time):

- Tuesday: 7-8pm
- Thursday: 10-11am
- Sunday: 12-1am

If you have chance, please tune in to support myself and the ultra cool DHR!

I hope you thoroughly enjoy the show and many thanks in advance to any votes, comments and likes you leave...it's as always...